Chad Table of Contents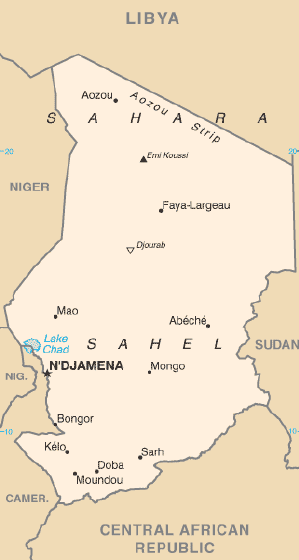 Located in north-central Africa, Chad stretches for about 1,800 kilometers from its northernmost point to its southern boundary. Except in the far northwest and south, where its borders converge, Chad's average width is about 800 kilometers. Its area of 1,284,000 square kilometers is roughly equal to the combined areas of Idaho, Wyoming, Utah, Nevada, and Arizona. Chad's neighbors include Libya to the north, Niger and Nigeria to the west, Sudan to the east, Central African Republic to the south, and Cameroon to the southwest.
Chad exhibits two striking geographical characteristics. First, the country is landlocked. N'Djamena, the capital, is located more than 1,100 kilometers northeast of the Atlantic Ocean; Abéché, a major city in the east, lies 2,650 kilometers from the Red Sea; and Faya Largeau, a much smaller but strategically important center in the north, is in the middle of the Sahara Desert, 1,550 kilometers from the Mediterranean Sea. These vast distances from the sea have had a profound impact on Chad's historical and contemporary development. The second noteworthy characteristic is that the country borders on very different parts of the African continent: North Africa, with its Islamic culture and economic orientation toward the Mediterranean Basin; West Africa, with its diverse religions and cultures and its history of highly developed states and regional economies; Northeast Africa, oriented toward the Nile Valley and Red Sea region; and Central or Equatorial Africa, some of whose people have retained classical African religions while others have adopted Christianity, and whose economies were part of the great Zaire River system. Although much of Chad's distinctiveness comes from this diversity of influences, since independence the diversity has also been an obstacle to the creation of a national identity.
Custom Search
Source: U.S. Library of Congress