Persian Gulf States Table of Contents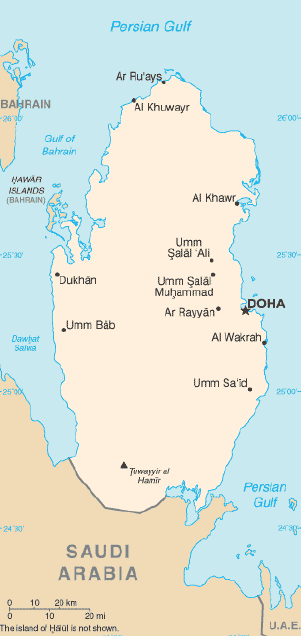 Qatar occupies 11,437 square kilometers on a peninsula that extends approximately 160 kilometers north into the Persian Gulf from the Arabian Peninsula. Varying in width between fifty-five and ninety kilometers, the land is mainly flat (the highest point is 103 meters) and rocky. Notable features include coastal salt pans, elevated limestone formations (the Dukhan anticline) along the west coast under which lies the Dukhan oil field, and massive sand dunes surrounding Khawr al Udayd, an inlet of the gulf in the southeast known to local English speakers as the Inland Sea. Of the islands belonging to Qatar, Halul is the most important. Lying about ninety kilometers east of Doha, it serves as a storage area and loading terminal for oil from the surrounding offshore fields. Hawar and the adjacent islands immediately off the west coast are the subject of a territorial dispute between Qatar and Bahrain.
The capital, Doha, is located on the central east coast on a sweeping (if shallow) harbor. Other ports include Umm Said, Al Khawr, and Al Wakrah. Only Doha and Umm Said are capable of handling commercial shipping, although a large port and a terminal for loading natural gas are planned at Ras Laffan, north of Al Khawr. Coral reefs and shallow coastal waters make navigation difficult in areas where channels have not been dredged.
Qatar shares its land border with the United Arab Emirates (UAE), with which in 1993 it continued to have a dispute in the Khawr al Udayd area. The boundary with Saudi Arabia was settled in 1965 but never demarcated. Qatar's northwest coast is fewer than thirty kilometers from Bahrain.
Doha is the capital of the country and the major administrative, commercial, and population center. In 1993 it was linked to other towns and development sites by a system of about 1,000 kilometers of paved roads. Doha's international airport has an approximately 4,500-meter main runway, capable of receiving all kinds of aircraft.
The long summer (June through September) is characterized by intense heat and alternating dryness and humidity, with temperatures exceeding 55° C. Temperatures are moderate from November through May, although winter temperatures may fall to 17° C, which is relatively cool for the latitude. Rainfall is negligible, averaging 100 millimeters per year, confined to the winter months, and falling in brief, sometimes heavy storms that often flood the small ravines and the usually dry wadis. Sudden, violent dust storms occasionally descend on the peninsula, blotting out the sun, causing wind damage, and momentarily disrupting transport and other services.
The scarcity of rainfall and the limited underground water, most of which has such a high mineral content that it is unsuitable for drinking or irrigation, restricted the population and the extent of agricultural and industrial development the country could support until desalination projects began. Although water continues to be provided from underground sources, most is obtained by desalination of seawater.
Custom Search
Source: U.S. Library of Congress