Tajikistan Table of Contents
Mountains cover 93 percent of Tajikistan's surface area. The two principal ranges, the Pamir and the Alay, give rise to many glacier-fed streams and rivers, which have been used to irrigate farmlands since ancient times. Central Asia's other major mountain range, the Tian Shan, skirts northern Tajikistan. Mountainous terrain separates Tajikistan's two population centers, which are in the lowlands of the southern and northern sections of the country.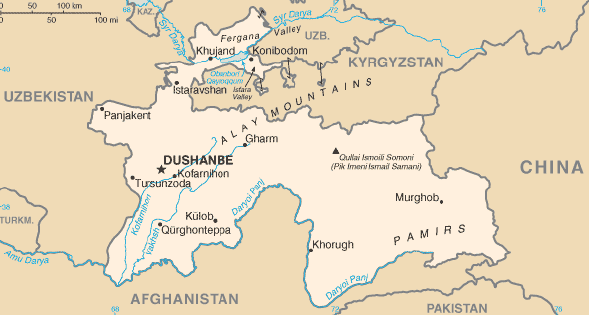 With an area of 143,100 square kilometers, Tajikistan is about the same size as the state of Wisconsin. Its maximum east-to-west extent is 700 kilometers, and its maximum north-to-south extent is 350 kilometers. The country's highly irregular border is about 3,000 kilometers long, including 430 kilometers along the Chinese border to the east and 1,030 kilometers along the frontier with Afghanistan to the south. Most of the southern border with Afghanistan is set by the Amu Darya (darya is the Persian word for river) and its tributary the Panj River (Darya-ye Panj), which has headwaters in Afghanistan and Tajikistan. The other neighbors are the former Soviet republics of Uzbekistan (to the west and the north) and Kyrgyzstan (to the north).
Topography and Drainage
Climate
Environmental Problems
Custom Search
Source: U.S. Library of Congress